Hydrotherapy Pool Project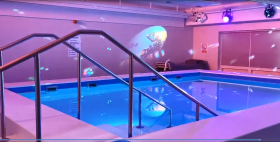 Sensory Audio and Lighting installed at Foreland Fields School Hydrotherapy Pool
Foreland Fields Charity were successful in raising over £20k of donations to enable them to provide an installation of Sensory lighting and audio within the Hydrotherapy Pool room at Foreland Fields School.
The students at the school use the pool on a regular basis to aid in movement and relaxation. One student with limited mobility who is a regular user of the pool had explained to our fundraiser how the sessions made her feel "The water makes me feel free"
Headteacher at the school, Adrian Mount, said "Many of our pupils benefit from hydrotherapy and water based activity. The warm water relaxes muscles and loosens limbs in order to improve movement, which brings a huge amount of freedom, joy and comfort to our young people.
This additional funding will enable us to ensure hydrotherapy is a more sensory based activity through the addition of light and sound. On behalf of the pupils/students and staff at the school, thank you to everyone that donated to this special project. "
Generous donations for the project were received from the following donors:


                                Tesco Bags of Help