Supporting Pupil Communication Needs
Alternative Augmentative Communication
A short guide for parents, carers and visitors prepared by the Communication Leader & Speech Therapy Team
Alternative Augmentative Communication (AAC)
The term AAC is used to describe the different methods that can be used to help people with communication difficulties to communicate with others. As the term suggests these methods can be used as an alternative to speech or to supplement it.
At Foreland Fields School we aim to provide a Total Communication Environment for all of our pupils where all forms of communication should be accepted and used interchangeably e.g. Makaton signing alongside a Communication Book alongside speech etc.
All classroom environments should be set up for all forms of communication. Needs-led base classes may also have additional systems set up for the whole class to support and value their specific communication needs.
EHCPs detail what individual pupils require both as standard and 'above & beyond' to ensure that their communication needs are met across all aspects of school life.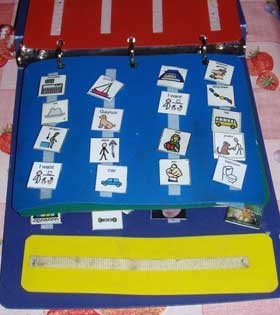 Picture Exchange Communication System (PECS)
Used to teach initiation and continue to build on discrimination of motivating objects/photos/symbols
Most commonly used to say "I want......"
Can be used to support sentence building to make requests & commenting including descriptive language e.g. "I want big blue ball" "I hear tambourine"
Resources available from www.pecs.org.uk

 Switches - e.g. Big Mac/Little Mac Step-by-step 
Single switches can be used to record 1 short message.
Step-by-Step can be used to record multiple messages in rotation.
Can add a symbol to the lid to reinforce what is hear

Also used to teach cause & effect – when I press this button I hear a sound and often get a reaction too!

Multiple switches can be used to add the missing words in a story/ animal sounds when singing Old Macdonald/throw beanbags to hear the score when they hit one switch.


Communication Books
Enables individuals to access a wider range of vocabulary and allow for a wider range of communicative reasons e.g. questioning
Books are accessed by pointing to the different symbols – need to have the attention of the communicative partner.
Should be used alongside other forms of communication
Core vocabulary is the same on the left hand page throughout the book
Teaches skills of categorisation – all similar symbols will be on the same page. Symbols are colour coded in accordance with the 'Language Through Colour' system e.g. pink background for people, orange for objects.
Can sometimes be a stepping stone to using a high tech communication aid - following referral to the CAT (Communication & Assistive Technology) team.
Is often there as a backup for when the high-tech aid isn't available e.g. needs update or not appropriate (swimming pool?)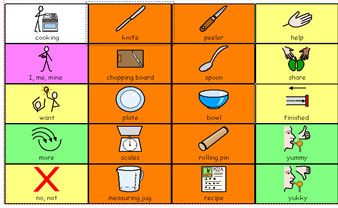 Communication Boards/Charts   
Follow the same principles of Communication Books but tend to be more specific to an activity or for commenting.
Provides opportunities to link symbols to link symbols to form basic sentences if appropriate.
Can be used with pupils who don't have a Communication Book to support subject specific vocabulary.
Can be easily developed for use with switches & communication devices in a similar layout.
Examples for use in class can include – making choices for snack, requesting items in cookery session, commenting on a new event activity.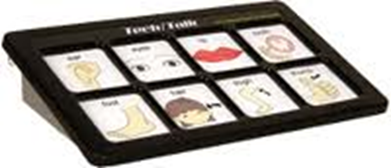 SuperTalker/ TECHTalk 8  
Programmable with 8 messages and different overlays for 6/8 levels
Provides motivating verbal reward for correct response.
Uses in class can include – Good Morning session choices, snacktimes, filling in missing words in stories, conversation starters
Can be used to build short sentences but limited to 8 words
Various products available from www.inclusive.co.uk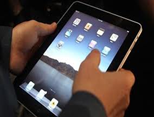 Use of iPads
We have a bank of Ipads in school for use with groups or individuals that can be booked out for specific sessions.
There are some fantastic apps available for communication development that can be adapted for individual requirements.
Ipads are being increasingly considered as an option for communication devices as they are significantly cheaper than the more specific systems
These 'ipad' communication devices are then 'locked' so that other irrelevant Ipad functions are not available to users.
Please ask your child's class team about how they are using Ipads. 
Our ICT technician can support parents with a list of the apps used in school and show the protective cases and stands which we have found to be the most durable.


Next Steps for pupils...
Availability of a device with more choices e.g. Go Talk 32 with 32 cells
CAT consultation or CAT assessment for a more personalised system. This is a lengthy process with forms, evidence collecting and several meetings. All involved parties need to be committed to supporting the individual to maintain and update the communication system. Many systems can be worth upwards of £5000 depending on complexity required for individuals.
Please discuss any questions regarding specific pupils working at these levels with the class teacher and/or Speech & Language team.